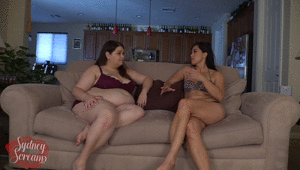 10:09 video
I'm over at Tomiko's catching up with her about life. We're both fetish models... She's a very fit and toned model and obviously, I'm a little different. I'm much bigger, fatter, plumper. I never realized my appearance was a problem!! But apparently, Tomiko thinks so. She begins fat shaming me, saying that girls my size should consider covering up or getting into a more toned shape. I can't believe she would fat shame me, saying I should hide my belly, or even that I should leave the business!! How rude!
I can't take it anymore... she's so rude! I thought we were friends but she is MEAN!!
It's a good thing that just because I'm fat, doesn't mean I'm not strong!! I throw her down and smother her beneath my big, fat ass. I punish her for being so mean by pacesetting her. She struggles and kicks as she gasps for air beneath my big butt. After I've smothered her beneath me, she finally apologizes before I KO her with my big ass! She's never going to call someone a fatty ever again!
Category: ASS SMOTHERING, BBW FACE SITTING, FACE SITTING, FAT, BBW, WEIGHT HUMILIATION