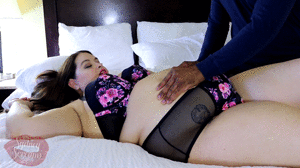 8:05 video
It's my buddy's first time ever worshipping a fat belly like mine before! His strong hands feel so good massaging my plump belly as one of his fingers starts to finger my deep navel. Mmmm it feels so good! When he starts kissing my belly, I can't help but moaning in pleasure!! It feels amazing as he kisses, licks and even nibbles on my chubby body. His tongue flicks in my belly belly button, eating it out and bringing me so close to bellygasm. I pull down my panties more so he can really get in and enjoy my fat apron.

I am moaning in pleasure as he brings me closer and closer to bellygasm. He gets 4 fingers into my fat belly button, making my tummy jiggle and causing me to moan uncontrollably. This whole video is so fucking hot!!!

Custom videos & MP3s available! Email for info & rates: SydneyScreams4u@yahoo.com

Category: BELLY FETISH, BBW, BELLY BUTTON FETISH, LICKING, BODY KISSING, FAT APRON.